WORKBOOK
Dr. Pop's Secrets of Diabetes
What Your Doctor Never Told You!
This is a Do-It-Yourself Workbook for Dr. Pop's Secrets of Diabetes book. It contains practical advice, tables, checklists, tools, resources, motivational materials, planners and sample protocols.
Warning:
This book is FOR TYPE 2 DIABETES ONLY! Individual cases may vary. For difficult, complicated, severe, or unusual cases, please see a competent physician. This book central idea is permanent lifestyle changes! This is not for you if you are not committed to permanent lifestyle changes or looking for the latest gimmick! These ideas are not the standard of care or even the standard of thinking. If you are only seeking typical standard of care or expect standard treatments or suggestions, please DO NOT read this book.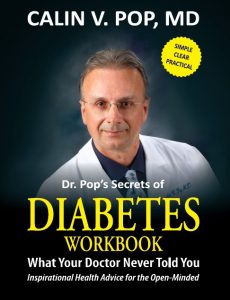 Taxes and Shipping Included
A Full 25% Discount From Amazon Price
---
Product Includes: