Not All Supplements Are Created Equal
Feel 10 Years Younger, Feel the Difference. Guaranteed...or Your Money Back

Dr. Calin V. Pop, MD, medical doctor, speaker, author and researcher, finally Releases New 'Kick-Butt' Health Formula
From: The Desk of Dr. Calin V. Pop, MD
Re: Feel 10 Years Younger, GUARANTEED
Dear Friend,
Are you tired of feeling tired?
Let me tell you a secret…
Because of the fast-paced world we now live in, worrying about problems and solutions to projects and household situations, stress and fatigue attacks the average person more easily and quickly than EVER before...
You are busy. Pre-occupied with work. Aggravated with that dumb-dumb that you have to deal with every day at the office. After work, you want to go to the gym. Tired. How can you make time or have the energy to even think about the REALLY important things like spending more time with your wife & kids or exercising to keep healthy and fit?
Well,…  not anymore!
You're about to discover the formula that I created over many pain-staking years of research and testing. It's a specially crafted Health Supplement.
This might be the good news that you've been wanting to hear for ages!
Can you belive that without Any Surgery, Illegal Stimulants, Questionable 'Hash-Lousy Diets or 'Druggies', you can feel 10 years younger? YES! It is definitely true, and we are giving you the chance to experience this wonder.
Not Feeling Up To Par?
Do you feel like you're tired lately?
Are you dozing off in front of the TV?
Do you find yourself sleepy, dragging yourself out of bed?
Most of us know what it's like to be tired, ...  especially when we are sick.
You may be often wondering, "Why am I soo tired?"
Or maybe you just don't have the energy to get things done.
---
Power Source One comes to the rescue!
WHAT POWER SOURCE ONE CAN GIVE YOU
You see, when asked, most people say they just want to "feel better", but you don't just want to feel better
in the short time. If that would be true I would say... go and have a glass of wine! You will definitely feel better!
But his is NOT what you want, isn't it?
I know that what you really want is a healthy, sustainable energy for the long ride, a sparkling, healthy, joyful energy for every single day... year after year!
Fatigue and a lack of normal energy are a big problem for many people. In some cases, there's a reason for not feeling energetic. Heck, it might even be a medical condition!
If you've been to your doctor and nothing was found missing, and you tried "everything", then...
You owe it to yourself to try The BEST Daily Supplement Available!
Power Source One!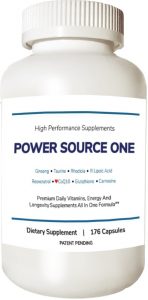 A Medical Grade Nutritional Supplement
Power Source One (PSO) is a state-of-the-art, powerful, nutritional supplement formula that will "make a difference". It is a concentrated, convenient formula designed to cover all your daily needs in only One Bottle. Power Source One is a high impact, high-quality, pharmaceutical and medical strength, premium daily nutritional supplement.
It contains activated vitamins, minerals, anti-aging ingredients, anti-stress ingredients, herbal extracts, amino acids, flavonoids, detoxifiers, modulators, antioxidants, energizers and much more. This formula contains almost all the daily nutritional supplements needed for GREAT health, energy and longevity.
It is the BEST Daily Premium Multi-vitamin, Energy and Anti-Aging nutritional supplement in one bottle you can find anywhere.
When You Absolutely Need The BEST...
Choose Power Source One!
✔ Exclusive Professional Formula
✔ MD Designed And Recommended
✔ Medical Strength, High Impact, Makes A Big Difference
---
✔ Based On Extensive Medical Research
✔ Unique Medical Formulation For All Daily Needs
✔ Way Better than "Optimum" It Is In The "Power Zone"
---
✔ Based On a NEW Multiple Genetic Variability Theory
✔ Secret Is In The Ingredient Balance And Strength
✔ Patent Pending In The USA
What Exactly Is Power Source One?
Power Source One is a powerful daily nutritional supplement, containing a premium selection of daily vitamins, anti-aging & energy supplements all in one bottle.
In fact, it is approximately 23 bottles in one, containing the equivalent of 3 bottles of Multivitamins, 2 bottles of B12, 3 bottles of folic acid, And one bottle of each of the following:
vitamin B complex, stress and fatigue formula, liver detox, CoQ10, vitamin D, allergy formula, amino acids, vitamin E, chromium, antioxidants, adaptogens, electrolytes, resveratrol, green tea extract, carnosine, and anti-aging elements.
It is the MOST potent health supplement on the market right now because it contains a rare combination of quality vs quantity nutrients compared to other supplements, which give it the power to produce maximum results for the individual who uses it.
In fact, it is so complex and powerful, I literally have problems finding a good manufacturer for it. Actually, the last manufacturer I recently approached told me he'd been in business for 25 years, had manufactured thousands of supplements, and yet none of them had come remotely close to the potency & value found in PSO!
He called it, "...a nightmare for a manufacturer but a blessing for the one who takes it".
This translates into a lot of advantages… for YOU.
When you use my Power Source One supplement, you will get the following benefits:
---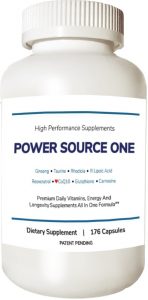 Who Am I And Why Should You Listen To A Single Word I Say?
My name is Dr. Calin V. Pop M.D. and I am a professional medical doctor, meaning I treat patients daily, and also a speaker, author, and researcher.
I am the founder and president of Unique Health Solutions, a medical center combining traditional medicine with the most cutting edge alternative, complementary and self-improvement techniques.
I have successfully treated thousands of individuals over the last 25 years and have over 35 years hands-on, practical experience in the medical field, having a deep passion for helping & transforming people's lives through medicinal science and procedures.
You see, I created this formula because I was sick and tired of all the B.S. that is being peddled in the health and supplements industry, just for large corporates to make a 'quick-buck'.
The health industry alone is worth over a billion dollars and low-riding sale-schmucks will 'sell their souls' and a 'pinky-finger' just to sell worthless products to desperate people in exchange for 'dirty-money'.
I wanted to be different!
I wanted to give people the truth.
A real supplement, that's completely safe and yet produces real results.
And... This Is How Power Source One Was Born!
30 DAY NO-NONSENSE, TEST-BEFORE-YOU-INVEST GUARANTEE
I personally guarantee that you've never had anything like Power Source One. If you don't feel younger, stronger, more energized, happier and more in control within the next 30 days after using my Power Source One health supplement, simply return it to me, opened as it may be, and owe me nothing. I will give you a full refund, no questions asked, no hard feelings.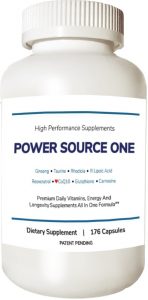 WHAT YOU'LL GET WHEN YOU ORDER TODAY

For a limited time only: You'll receive an Introductory Power Source One health supplement bottle, containing 176 capsules inside, power-packed with about 23 bottles of multi-vitamins, nutritional elements, energy-boosting and anti-aging properties, all inside.
If you act today, you will get the Power Source One health supplement at the 15% discounted price of only $72.97.
It is less than the price of a one-night grand dinner outing with your loved one at a restaurant, except here instead of just filling your stomach, you fulfill your desires to look, feel, exude energy, confidence, focus and strength.
Yes. It is not cheap. It is a Ferrari at the price of a Mercedes. But what you will receive is worth far more than your investment in this product.  But you have to act NOW.
In case you're wondering if it's too expensive for you to obtain right now, let me ask you this question: At what cost are you willing to risk your health, energy and time? How much is an extra hour per day of productivity on your business worth? Or your exercise regime? How much value do you place on spending more time with your family? If you're anything like me, you'd know that that last one there is ….priceless.
---
Why Am I Practically "Giving" This Health Package Away At A Fraction Of The Cost?
I'm giving this away at such a steal because I wanted to create a quality A+++ Grade product that wasn't priced out of range for the market. You see, I'm tired of all the junk being sold in the health industry – I want to give people something that is tested and proven. A health supplement that is safe and has proven over & over again to work. And I want to put it in range for people like you to access it and truly benefit from it.
---
For a LIMITED TIME...
Get Instant Access To These Amazing Bonus Gifts
$125 Value Yours Today!
---
BONUS #1: Fatigue Book PDF  

($47.97 Value)
The PDF version of "Dr. Pop's Secrets of FATIGUE. Inspirational Health Advice for the Open-Minded".
You will gain special access to my newly released book, which will show you 'little-known' yet effective natural ways to increase your energy levels. Now you can finally feel fully rejuvenated and energized every single day, using these perfectly safe and natural methods.
---
BONUS #2: A Strategy To Take Nutritional Supplements PDF    

($47.97 Value)
Until now you likely take supplements based on what others occasionally recommend or based on what you see on TV. You don't have a strategy at all about what supplements you need to take daily, which supplements are an utmost priority, what supplements you absolutely MUST take based on your age and how you need to structure your daily supplement intake. This report will provide all this and open your eyes!
---
BONUS #3: Boosting Secrets For Personal Power and Greater Energy Checklist   ($47.97 Value)
These item checklists are my "golden nuggets" that have been garnered from my many years of research and medical practice. They are proven to increase your energy and mood.
They are designed to help you increase your mental focus and begin every daily task at your peak.
---
BONUS #: 26 Ways To The Best Sleep Of Your Life PDF  

($27.00 Value)
These item checklists are my "gold nuggets" that have been garnered from my many years of research and medical practice. They are proven to increase your energy and mood.
They are designed to help you Increase your mental focus and begin every daily task at your peak!
YES! Dr. Pop, I want to order Power Source One which will make my life easier.
I understand that when I purchase this, I'm protected by your 100% money back guarantee and my purchase is safe.
I understand I'm one of the first to try this product so I'm getting an amazing price on this.
Receive Power Source One monthly and SAVE. You can cancel the monthly subscription at any time and retain the savings.
It really is a No-Brainer.
You've got nothing to lose, really!
Except fatigue-driven days, 'dragged-out-of-bed' mornings, and sluggish evenings with worrisome conversations with your spouse & uninspiring thoughts of tomorrow.
So order right now and watch your life turn around for good!
Dr. Calin V. Pop, MD
P.S.  Please remember, only the first 5 people to order today get the high value bonuses as well.
P.P.S.   Your 30-Day-free-test-before-you-invest guarantee is exactly that – it is totally free to you to use Power Source One and without any risk whatsoever for the first 30 days. In fact, the only way you could incur any risk at all is by not accepting this invitation, and thus depriving yourself of the greatest health success advantage that you might ever have the opportunity to discover.